Polo Paradise
in Argentina
---

---
A unique place in Argentina where you will find a team of professionals to ensure that your stay will be an experience of pure polo. Our superb facilities offer an excellent home base for beginners to experienced polo players.
Read more
When you are not on horseback, you will experience the warmth and peacefulness of the Argentine Pampas whilst enjoying the excellent hospitality, refreshing swimming pool and homemade food.
Specially built for Polo enthusiasts
from all around the World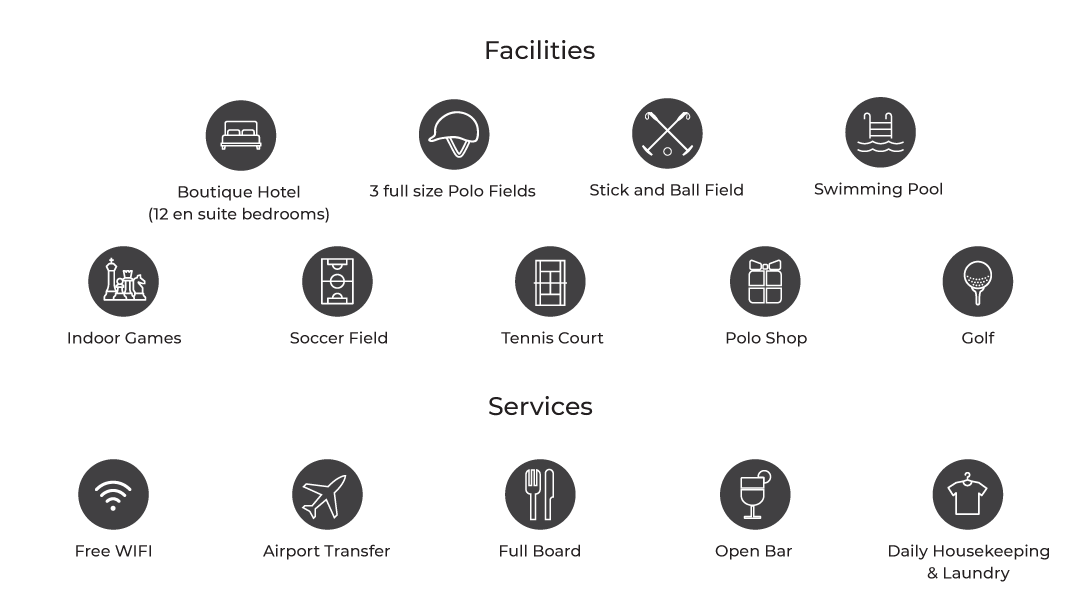 Bring your polo
passion, take
unforgettable memories
---

---
Our polo training program is designed to improve your personal skills, to give extensive opportunity to play practice games with local and overseas players and to spend time enjoying the vibrant scene of polo tournaments all around us.
Read more
A typical day consists of a polo lesson or stick and ball in the morning. During the polo lessons our polo professional will challenge you to develop your technique and riding skills. The practice games are focused on learning team skills, positioning, strategy and most importantly having fun! The level of the practices is adjusted to the experience of the guests. From beginners up to competitive practices, everyone can improve their skills and enjoy the game. The practices are played on our 3 full size professional polo fields designed by renowned engineer Alejandro Battro. We offer a broad spectrum polo ponies of different levels for our guests to play on. If you are looking to purchase a horse, please let us know. We can show you our selection of polo ponies for sale or can assist in finding the right pony for you.
Never too young to start playing polo
---

---
For all children who play polo or want to set foot in the world of polo, El Metejon offers a children program in combination with our polo school for kids. "El Polito". It is aimed at children between 6 and 14 years old to learn to play polo in an educative and fun environment.
Cañuelas,
The Heart of Polo
---

---
Our club It is surrounded by others prestigious clubs and right in the heart of the 'cradle' of the new generation of most talented players in the world, brought up at clubs as clubs like La Martina, La Dolfina, La Natividad and El Overo.
El Metejón is conveniently located at only 20 minutes from Ezeiza Airport and 40 minutes from Buenos Aires city, just around the corner of all the beauty, excitement, shopping and culture the city offers.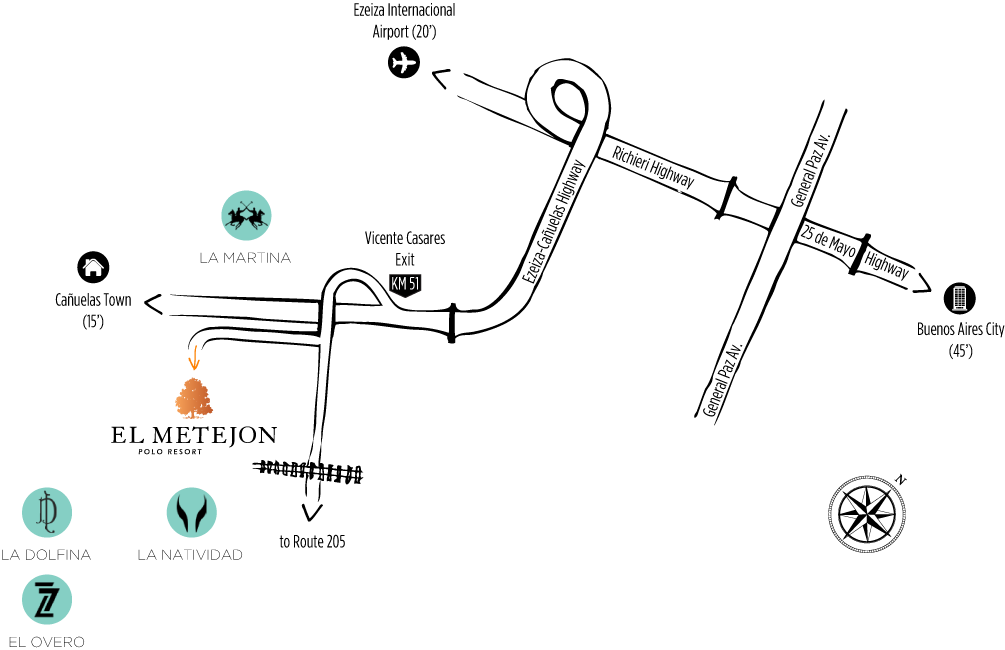 Hi, we hope
to see you soon.
---

---
Since 1996 El Metejon has become one of the most sought-after destinations by polo players from all over the world who, year after year, come "home" to this Argentine polo escape. The resort is hosted by Fleur van Andel and Luis Duggan, both dedicated polo players, who welcome their guests in the family atmosphere of the polo resort
Read more
Luis comes from an Argentine family with a long tradition in polo. He is the grandson of Luis Duggan, the fourth Argentine player in history to reach a handicap of 10 goals and an Olympic medalist. Luis (g) has travelled around the world as a polo professional and has held different positions in the historic El Trebol Polo Club, founded by his grandfather in Capitan Sarmiento, where he obtained the experience of managing a club. The entire polo staff are experienced professionals, with our polo pro Mariano Chamorro in the lead, who is a Certified Polo Instructor by the Argentine Polo Association.
Photo Gallery
---

---